We perform 61 hip replacement surgeries on patients with osteoarthritis of the hip in the year following June 2003. 49 out of the 61 were MIS (80%). Unfortunately we had to choose traditional hip replacement surgery for 12 patients (20%) because of severe deformity of the joint. We introduced the navigation system in August 2004 to realize our hope that more patients can benefit from MIS. Its computer system guides the surgeon to hip joint as accurately and safely as a car navigation system guides you to your destination.
First you have a CT scan. The computer calculates from the CT result the suitable size of the artificial implant and the location of your hip joint. You can also know how many millimeters your lower limb will lengthen after the surgery. We confirm the data and use it during surgery (picture1). We load the data on a computer equipped with a video camera in the operation room. The camera, which corresponds to a satellite for a car navigation systems, shows the position and depth for reaming and the position of the artificial joint while implanting it (picture 2). During the operation, we confirm the position of the hip joint (picture 3).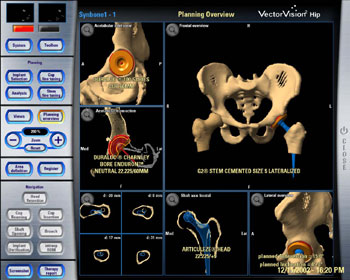 picture 1: Display on the computer before surgery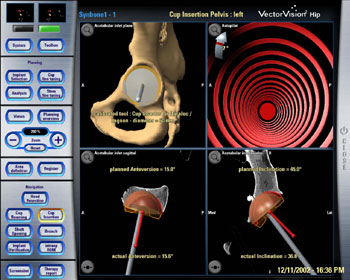 picture 2: Display on the computer during surgery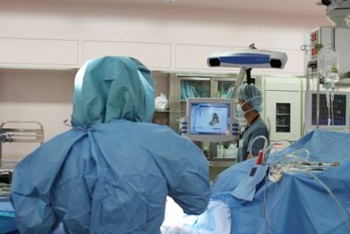 picture 3: Using the navigation system
One of the demerits of MIS is less visibility for the surgeon because of the smaller incision. Some doctors are afraid that they cannot place the implant accurately, although an expert doctor can. Severe deformity of the hip joint makes the procedure difficult even with traditional surgery. We believe the navigation system lets us perform MIS on more patients. After introducing the navigation system we have performed MIS on all our patients so far. If it were not for the system, 10 to 20% of the patients would have to have the traditional surgery.